Open your eyes
pollution KILLS
Gippsland's PFAS contamination
​This page, and website in general, is dedicated to providing more comprehensive information to Gippslanders impacted by PFAS contamination than currently accessible by state and federal government sites which appears to be deliberately misleading or non-existence. YOU need to update your own knowledge of PFAS and where areas are most contaminated in Gippsland because the EPA are underplaying the extent and seriousness of PFAS contamination, the department of Health are irresponsibly dangerous and your government members are certainly playing ignorant. Basically, you are being screwed over by Government.
Buyers - how would you know if property for sale is contaminated with PFAS - what is due diligence?
If selling contaminated property - do you hide the contamination or be up front. How do you seek compensation from loss of valuation?
Are you leasing land from known contaminated sites for diary and livestock production as well as feed crops?
Where do you access your drinking water from? What are the PFAS levels? Are the guidelines outdated?
Are you using biosolid fertilisers regularly as these may contain levels of PFAS that accumulate in the soil?
Do you irrigate with treated recycled wastewater to grown pasture and crops?
Are you hunting and eating game (deer/duck)?
Where do you fish including for eel and shellfish?
---
Gippsland is a large area having
more confirmed sites where PFAS has been detected than any other region in the state. B
ut the main focus area for heavy contamination is around the regional township of Sale.
The many known PFAS contaminators include sites owned and/or operated by East Sale RAAF base, Fulham CFA, ESSO Longford Gas Plant,

Dutson Downs treatment plant and weapons range.

Upstream, the villains are Latrobe Valley coal mines, Saline Wastewater Outfall Pipeline (SWOP) and heavy industry contaminating surface and groundwater seeping into our local rivers and oceans as is municipal wastewater treatment plants.
There are big users of PFAS in this area via the notorious AFFF firefighting foam, pesticides and as an industrial manufacturing chemical. Worst, there are also very big receivers of PFAS chemical from elsewhere in the state with wastewater from both industry and the general pullulation. The liquid effluent and biosolids from the treatment process is not removing PFAS which then goes on to make fertilisers or provide for irrigation water under the sham of a 'beneficial use'. The PFAS is not destroyed just moved on with Government and Industry complicit in providing the means for the ongoing coverup.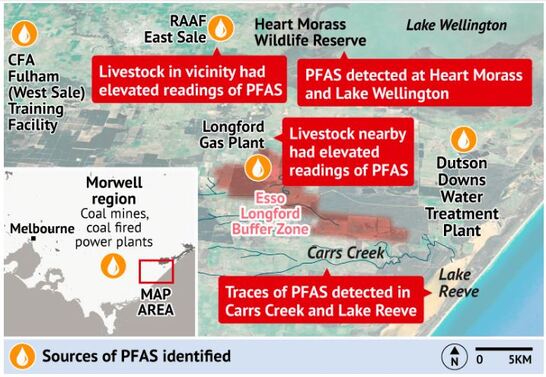 ---
Gippsland needs to wake up
I have been trying to get Gippsland landowners to stand up and be noticed for too many years but you are still silent. The ESSO contamination is clear, it's their fault and same for the RAAF Defence base.
Other PFAS Defence red zones around Australia made their voice heard.
The community fighting the dumping of PFAS contaminated soil from the West Gate Tunnel Project made their voice heard.
The Fiskville firefighters eventually got heard.
Yet, there is a
CONE OF SILENCE
over this company town. Can't say a bad word against the 'family'.
We hear nothing from:
the local doctors (some on retainers from ESSO),
the vets,
the stock agents,
local agricultural representatives,
real estate agents to name a few; and worse,
our parliamentary representatives, both federal and state, who have not stood up for the impacted people.
Therefore, no one in government, their agencies, the agricultural sector, the abattoirs need do anything other than keep their mouths shut. The Victoria government have done a great job of bluffing you all. But the rest of the world is moving on revising their PFAS levels stricter and placing maximum PFAS levels on meat and food so it cannot enter the food chain protecting communities from ongoing PFAS exposures.
This is a game changer moving forward - read January 2023 article by
The International Chemical Secretariat - Chemsec
here
.
Australia will eventually need to wake up but at what cost already to Gippsland as a
lso hearing whispers that recent testing has identified PFAS in the local milk and livestock? But that is ongoing if you were not aware.
​Can only assume the contaminated milk and meat is being consumed locally.
---
Ongoing fight to be heard
A past 2018 story in The Age which I collaborated on was taken to task by local media on radio and on

ABC Gippsland Face Book

because of the title.

Toxic fears: Farmers warned not to eat the beef they sell.

ABC Gippsland Radio then preceded to undermine the content.

'Farmers near Esso's Longford gas plant and the East Sale RAAF Base in Gippsland have been warned not to eat meat, offal or dairy from their own livestock due to contamination by toxic chemicals but there are no restrictions on them selling such products.'
Worse, was their follow up online story by ABC journalist, Robert French,
Toxic chemical PFAS found in livestock no cause for alarm, Victoria's chief vet says
,
that continued the disinformation. For that I was furious as I
had spent 10 months setting that story up from my 2017 August visit to Canberra challenging past Foreign Affairs Minister, Julie Bishop's office for agricultural trade on PFAS contaminated livestock.
I was so shocked with Robert French's article with the first 200 words actually making out the issue was of no concern which I know farmers were devastated by ABC's lack of clarity on this issue.
For me, I can easily cop a smack in the face from ABC
but when I have facts and they don't nor appear to support the community on the PFAS issues that is where my rage starts and why I have revisited this issue.
​
​
​Gippsland media did not know the background, fell victim to industry outrage and facilitated the manipulation of facts peddled by the Victorian State and Federal Government. At the same time, on a national level the Red Meat Industry had been calling out for Federal Government to separate the food from the contamination source.
It was a perfect storm to get movement on, but ABC stuffed it up and shut it down allowing ESSO and Defence to dodge a bullet.
---
Current Gippsland Status
The
EPA Victoria PFAS webpage
reveals EPA are not going to do anything about PFAS in the general community meaning they plan to do nothing about reducing PFAS contamination to the land & waterways that supply your food. Anecdotally, we hear whispers that Victorian EPA are saying the PFOS compound in soil is not a problem. This is the sort of crap you hear when government don't know what to do with a problem and public servants on contracts become 'YES MINISTERS' to provide the coverup. By inaction, these people are increasing the PFAS pollution burden.
If the food safety scam continues this means the Victoria Government has abandoned you because
Gippslanders
:
did not complain,
did not voice their concerns to your state parliamentary representative,
did not challenge Agriculture Victoria, Dairy Food Safety Victoria or PrimeSafe,
did not question where the contaminated livestock or milk is being distributed - Coles/Woolworths/IGA/local butchers.
did not demand declaration of PFAS contamination on food labelling,
did nothing.
Meanwhile, the PFAS contamination plume is moving, loving the recent 2022 big wet. All those landowners in Gippsland that had no detections or borderline with the drought conditions will have the PFAS moving to the surface when wet then lowering in drought. The flooding waters from our Gippsland River systems would have contaminated our soils with huge number of contaminants.
Worse, the past PFAS levels recorded would be way above detections under revised US and European changes set to protect the human health risks. If you think you are safe from PFAS exposures, google
delusional
.
The recent flooding of the Murray-Darling
reported by ABC
highlights what is found in the waters from flooding land upstream to contaminating land downstream.
​
E. coli, chemicals such as PFAS and pesticides have been detected in floodwater, at levels not considered harmful
[not by international standards].
However, Victoria's Environment Protection Authority is recommending people not swim nor eat from contaminated waters.
---
Stuck on contaminated land
​Farmers and landowners are trapped on their contaminated land not able to sell or get loans so have no other option for income but to sell their livestock and produce to market. This is facilitated by all levels of government not via any legal process but some pretty dodgy grey areas that would not stand up in court.

What I will not defend though is those farmers leasing known contaminated land from both ESSO and RAAF to raise

livestock on contaminated soil and pasture knowing that they can sell at market.
​Agriculture Victoria and EPA need to be called out for allowing contaminated land to be leased, especially when the owner is the original PFAS polluter being both Defence and ESSO.

​

While there is some comment about ESSO's contamination on this page there is more on the

WorkSafe

link with food safety and livestock the reason why all levels of government are enabling ESSO to do nothing.

​

---
---
onselling contaminated land to unsuspecting buyers
My comment on the FB page noted "Whilst I sympathise with PFAS contaminated landowners, I cannot tolerate the sale of 'cheaper' land to unsuspecting buyers who believe the Government with their negligent messaging. Why are these landowners not seeking compensation in the courts and why are you not standing up against ESSO for contaminating your land and ruining your dreams. ESSO have an obligation to their neighbours. Use your power."

​Some excerpts from the news article,

'In an ABC Gippsland radio interview on October 12 2017, Environmental Protection Authority chief environmental scientist Andrea Hinwood told listeners "we just don't know what the human health impacts are" when quizzed on the potential dangers of PFAS contamination.
And at a community information session in Sale last year, Ms Hinwood told concerned residents living in contaminated areas to try to "minimise" their exposure to dust, after an East Sale RAAF Base neighbour asked about the contamination impacts to his young family, and was unsure whether he should be worried about his children playing in potentially contaminated dirt around the house.'

Here is

EPA's 2018 response letter

saying much the same while not admitting there is a problem.
​
​
As a buyer, all you have is your due diligence which is farcical when government play the '
no health impacts'
. Those people who have bought into land that is contaminated should seek legal advice from a lawyer (find one that does not have a conflict). But in the meantime, do as the previous Vic EPA Chief Environmental Scientist advised about reducing dust exposure because that is the only help they are prepared to give you while allowing the polluters to keep polluting -
don't let your kids play outside in the dirt,
​don't work in the dirt,
don't walk on the dirt,
don't drive on the dirt,
don't plough the dirt,
don't grow veggies in the dirt; and most important,
don't breathe while outside.
deer hunting
All animals are exposed to PFAS bioaccumulation if they are eating & drinking from sources contaminated with PFAS. If the waterways and land the deer graze and drink from is downstream from industry, on those flood plains, wetlands, springs, farmland that irrigate with recycled wastewater and sewerage biosolids then the meat and organs could potentially have very high levels of PFAS. Same relates to all animals including rabbits.
But how would you know? How is government warning you? How often do you eat the meat? Where are the EPA advisory signs? Government says as a precaution, you should reduce your exposures to PFAS but are government picking and choosing what information it chooses to give out depending on the economic benefit hunting brings to the economy both regional and state.
Hunters, particularly Gippsland hunters, have a right to know so they can make decisions based on facts. Hopefully, their decisions are made in the best interest of the 'other' persons who also consume the meat.
Some USA articles to read. #Note - US PFAS detectable levels are being updated and now lower.
---
DUcks, eels and fish
What a
bleak picture for native ducks
and our Gippsland biodiversity with a recent news article in the Gippsland Times. But it is not just ducks as locals talk about declines in many waterfowl and bird species. PFAS accumulates in the bodies of all wild animals and if exposed enough can lead to unfertilised eggs and even death. If chicken and eggs are affected by PFAS so are ducks. So, if you are consuming parts of the meat, organs and eggs from the same exposed animal you are also bioaccumulating PFAS in your body. The more you eat the greater the PFAS dosing.
EPA is advising children and adults that livers from ducks taken at the Macleod Morass Wetland and Hospital Swamp should not be consumed and consumption of duck breast meat should be limited to one serve (75g) per month for children.
---
Heart morass
This contradictory piece of advice from Field & Game Australia, as managers of hunting at the Heart Morass, also highlights the dilemma in trying to raise funds to manage the Heart Morass wetland while appearing to be responsible at the same time. The work by F&G is applauded by Catchment Managers, birdlife advocates and others to provide a site for migrating birds. However, consumers of duck need to be better informed as EPA regulator is failing the people. Worst is the deception by Department of Defence who contaminated the site and then sold it on to Field and Game Australia.
So, why is no one suing the Federal Government for the contamination in the first place?
​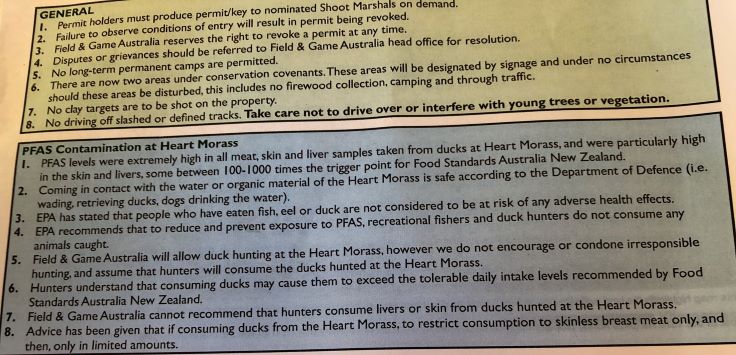 ---
Has Gippsland industries a licence to kill
While this title might seem extreme, EPA discharge licences, poor regulatory frameworks and compliance has facilitated industry trashing Gippsland's environment contaminating our waterways and land with PFAS, toxic industrial chemicals and pesticides which ultimately impacts human health now and for generations to come.
Regulators use the excuse they are poorly resourced but senior bureaucrats knowingly administer outdated and poorly structured Acts and regulation guidelines with environmental vandalism the trade-off.
Auditing appears to back up no action by regulators increasing the pollution burden.
The following needs to be called out as the enablers of environmental pollution -
Victorian EPA
WorkSafe Victoria
The following needs to be called out as the polluters -
Latrobe Valley coal power stations, past and present
Latrobe Valley paper mill
ESSO Australia
East Sale RAAF Base
Country Fire Authorities
Water corporations - Gippsland Water and East Gippsland Water
Agricultural land managers that use and mismanage dangerous pesticides
---
| | | |
| --- | --- | --- |
| | | Page last updated 29 January, 2023 |