IS WORKSAFE VICTORIA & SAFE WORK AUSTRALIA PROTECTING
​PFAS EXPOSED WORKERS & OTHERS?

NO - Then who is???
wORKSAFE VICTORIA & ESSO
Message to ESSO
Permanently contaminating private and public land and groundwater from your PFAS pollution cannot be classified as 'low risk' exposure to human health as the hazard is an insidious 'forever chemical' ingested as easily by dust and drinking water daily. PFAS was never manufactured to be ingested.
Low risk is one step up from negligible risk and that's where sugar sits as a chemical hazard to human health.
Looking forward to hearing how ESSO's barrister's will counter your interpretation of risk in court vs updated science which now declare PFAS as an unacceptable risk to human health!!!
---
Message to the peopleFor those unaware of ESSO's history using PFAS fire retardant know as aqueous film forming foam (AFFF) need to understand three issues.
ESSO used AFFF for fire training on a designated training ground for decades in contravention to the Material Safety Data Sheet (MSDS) that the foam must be contained and not be disposed of to the environment.
Parent American company were up to date with safety concerns related to AFFF for decades.
ESSO had a gas explosion at the Longford Gas plant in 1998 requiring significant amounts of AFFF which escaped to the environment but no follow-up earthworks were initiated to contain the foam.
---
​WorkSafe Victoria and the Victorian Industry Minister have responsibility and obligations under the following sections of the
Occupational Health and Safety Act 2004
.
Other persons
are neighbours which industry employers have a responsibility to ensure
are
not exposed to risks to their health or safety arising from the conduct of the undertaking of the employer
.
20. The concept of ensuring health and safety
21. Duties of employers to employees
22. Duties of employers to monitor health and conditions etc.
23. Duties of employers to other persons
Esso Australia Pty Ltd have the Longford Gas Plant in Gippsland
and breached their EPA approved licence conditions exposing neighbours to PFAS contaminated waterways, groundwater, soil and air.
The neighbours were only informed in 2016 that contamination investigations were commencing and, for some, the battle to seek justice is ongoing.
​ESSO are still fighting against their obligations meanwhile no one wants to talk in this company town!!!
PFAS - worksafe victoria inaction to protect ESSO neighbours
The inaction by ESSO and WorkSafe Victoria for the last 6 years appears to be a collusion between industry and government ignoring legislated obligations. Early NICNAS alerts on PFAS (2002-08) were sent to individual state and territories for Occupation Health and Safety bodies, public health and environmental agencies. Appears these alerts have been ignored and there is still no actual entity protecting neighbours contaminated by industry.
Shamefully, both ESSO and WorkSafe Victoria are preaching the same Trump-style disinformation on PFAS.
The following is
ESSO's comment on PFAS and health
-
there is limited evidence chemicals cause adverse human health effects...An independent expert health panel established by the Australian Government (which studied both Australian and international health evidence) recently concluded "there is mostly limited, or in some cases no evidence, that human exposure to PFAS is linked with human disease"...
A
2019 ABC article
says ESSO won't pay for the worker testing [blood] because
"Australian and Victorian government agencies who do not recommend blood testing for PFAS due to their non-diagnostic value. In accordance with this advice, Esso is not offering blood tests,"
The value in diagnostic testing cannot be disputed as a tool to ensure a person further reduces their exposure to PFAS contamination as well as becoming more proactive if changes in health status develop.
---
Worker Pfas protection - America vs Australia
​
The National Institute for Occupational Safety and Health (NIOSH)
[America] are up front with worker risks and research on worker exposures including resources for workers to become more informed. All relevant US agencies are actively collaborating to reduce ways workers and community are exposed.
Victoria is doing nothing.
A
PFAS search on WorkSafe Victoria's website
reveals no information or resources about PFAS!!!
The July
2022 Chemical profile
for Perfluorooctanesulfonic acid (PFOS) and related substances state:
PFOS, PFOS salts and PFOSF are classified as hazardous substances under the model Work Health and Safety (WHS) Regulations

.

While PFOS chemicals do not have workplace exposure standards under the model WHS Regulations, the regulations require that exposure to these chemicals be minimised to as low as reasonably practical and that exposure risks are managed...The chemicals must be labelled for physical and human health hazards in accordance with the Globally Harmonized System of Classification and Labelling of Chemicals (GHS) and safety data sheets prepared by importers and manufacturers must be provided on supply of these chemicals to a workplace.
There appears to be no collaboration, research studies or recommendations for worker exposures in PFAS environments for threshold limits on a 8-hour day or working week.
This is damning and highlights WorkSafe Victoria's lack of integrity to protect and inform exposure limits on worker health to hold industry and government to account.
---
what esso's doctor had to say on pfas
​​

"We mustn't scare the people."

The ESSO Doctor also informed me at a 2018 ESSO community meeting –

'WorkSafe Victoria, as the Regulator, has the power to compel ESSO to conduct blood testing and I don't know why they haven't...they have the capacity but they are quiet on this'...
​'The objective of any testing is to collate all available evidence against the presenting clinical features to identify a, b,& c. But the value in blood testing of PFAS exposed workers and neighbours of ESSO is providing a data match of the current health conditions that ARE present in older and retired workers.'

​
​The Dr stated it was a hot topic and workers at 'our' sites have raised it with ESSO that they want blood testing. Move on 6 years and nothing has changed.
​Why do ESSO need to do anything if the government says it is not a problem and the regulator supports ESSO based on the same inaccurate advice?
Surely, WorkSafe must have a threshold which determines when to step in either politically or more importantly for the right reasons particularly now there is a greater insight to the hazards of PFAS.
​
How many more workers or neighbours have developed cancer, died or have other associated health issues in this company town -
the ESSO syndrome
.
​What does the health data say that no one in government is publicly declaring?
​​
Read more evidence of PFAS coverup on
food safety
and
livestock
pages.
---
fighting Back against the system
In 2019, I

sent an email to the Victoria Government and WorkSafe Victoria

with some very reasonable requests to assist the impacted Gippsland community from ESSO's PFAS contamination. The response I received from a senior WorkSafe staffer,

on behalf of the Minister

, was arrogantly dismissive why blood testing was not needed. I suspect it has more to do with

'no data, no problem

' syndrome. Comes down to our regulatory authorities choosing the Federal Government's default position to undermine the health impacts and obligations related to heavy PFAS exposure and that is exactly what WorkSafe did to justify their inaction, the same as ESSO!!!
---
Worksafe Victoria's response
While this response is from 2019, it still needs to be called out because the information contained in the letter was deliberately misquoted. I can only assume WorkSafe took a guess that I was uninformed!
Some response excerpts below.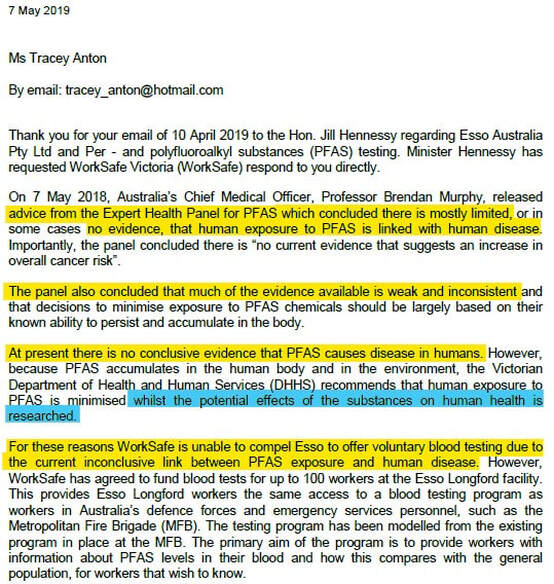 WorkSafe was using the misinformation based on outdated and manipulated

data as the reason they can't compel ESSO to offer voluntary blood testing to all workers and neighbours which is different to WorkSafe not having the power under the Act to do so. Additionally, if WorkSafe is deliberately

misleading is a whole other matter which would then obligate the responsible Victorian Industry Minister to become involved (whoever that will be due to upcoming state election). Would also like to test WorkSafe under

Misconduct of Public Office.
​As for the misquoted content of the Expert Health Panel's PFAS Report, this

very senior WorkSafe Officer carelessly plucked a short summary off the Federal Government webpage

'Expert Health Panel's independent PFAS advice'

cherry picking statements,

on the Minister's behalf

, why WorkSafe Victoria did not need to act responsibly under their own act.​

​

The Expert Health Panel PFAS Report can no longer be found on their own webpage so have provided a link via the Wayback Machine where we sometimes find information government no longer want us to see including this

PFAS report

that Australians should be ashamed of. Manipulating terms is rife in this report with WorkSafe continuing the calculated

misrepresentation noting

'the weakness of evidence'

is referencing the lack of health studies, not an absence of evidence to support that there are health impacts.

The 3 page summary is

here

which includes the last sentence omitted by WorkSafe their reponse.​

"However, the Panel noted that even though the evidence for PFAS exposure and links

to health effects is

very weak and inconsistent

, important health effects for individuals exposed to PFAS cannot be ruled out based on the current evidence."
---
what next?
While there is a huge list of stakeholders to
'satisfy, listen and/or please'
and then
'satisfy all their requirements',
there is still no excuse to ignore the purpose of the ACT - to protect the people and make industry accountable. That is what is forgotten - no political will, just silence.
​
Therefore, the only course of action is litigation as I c
an only conclude that WorkSafe Victoria are in breach of their own Act.​
---