This site aims to expose how government and industry are contributing to poor human health outcomes while trashing our environment through poor regulatory frameworks and inaction. CoM covers many topics in Gippsland and around Australia networking to reduce pollution to our air, land and water. The website is still building pages related to water mismanagement, outdated regulatory frameworks, mining & gas expansion. Current main focus is PFAS contamination exposing the coverup particularly oriented toward governments own non-compliance.
​You need to get angry and grow your voice at this injustice.
Exposing the deception
​

Everyday too many people, especially pregnant women and children, are exposed to pollutants via the air we breathe, the food we eat, the water we drink and the products we use. Ongoing chemical exposures leads to increased toxicity in the person's organs with links to cancers and chronic diseases. Worse, is pregnant women unknowingly passing these toxic chemicals via their blood to the unborn child with evidence of birth defects. When we know this is occurring through government mismanagement, this is social injustice with the person and taxpayers bearing the ongoing health costs. Without a healthy environment, there cannot be a sustainable economy and equitable society.
---
pfas faqs
See PFAS FAQs for more specific information:

what are PFAS and its toxicity?

​
why PFAS are called 'forever chemicals'?

how PFAS moves through the environment?

how we are exposed to PFAS chemicals?

the range of serious health problems linked to PFAS, and;

the all-important evidence - how government is manipulating evidence to undermine the danger of PFAS to support their

'do-nothing'

mantra?

---
---
pfas overview
​
The PFAS information and fact sheets provided by the Australian Government and responsible authorities are shamefully
outdated and misleading
. Therefore, most
external links provided are to credible international websites/PDFs with the most up-to-date or relevant information exposing the proof Australia and all states have been effectively manipulating and undermining the seriousness of PFAS contamination.
There are hundreds of sites around Australia contaminated by PFAS compounds where

Aqueous Film Forming Foams

have been used (AFFF) at airports, gas plants, Defence bases & military sites, metro and country fire service training sites.

The uncontained PFAS foam have since moved into residential areas, farmland and waterways contaminating the soil, groundwater and waterways. Some of these contaminated areas are now toxic minefields. Worse, many are also food producing areas forced to sell their contaminated product to market just to survive because it appears government have made the choice to put economics over welfare of men, women, children and pregnant women to protect our clean, green image. They don't even care about the general population either for PFAS is not limited to plastic or foams - they are also in food packaging, pet food bags, makeup, processing equipment and other everyday products like c

arpet, leather, clothing and non-stick cookware. Yet, our federal and state governments continue to do nothing while they FEED YOU A LIE!
An appalling excerpt and example from the

Australian Government Department of Health and Aged Care

. Federal government department heads are dangerous, reckless and should be called out for misconduct of public office. Throughout many federal government website pages covering PFAS there is consistent evidence of factually incorrect or misleading information on so-called updated pages. These pages should be informing to protect public health not as a tool to reduce government liability.
---
The ability of the law to be corrupted
How government controls information and society is how it maintains their power. The fact that the law can be corrupted or is corruptible is the real issue here. At the heart is government's own non-compliance of its own Acts, regulatory guidelines and policies with a total absence of accountability to its legislative goals and objectives. So, what happens if government doesn't comply with its own code? Who wears the brunt and who pays for the fallout? You lose your rights and the community always pay in the end.
​U
ntil the government stand up and say PFAS is a dangerous chemical and legislate the need to take it out of our products and separate food producing areas from PFAS contamination they can't say our meat and produce are being sold as safe because government cannot prove that they are with the mounting evidence.
---
our rights or lack thereof
Government is not taking into consideration the people who are living with uncertainty, unable to sell their property and feeling trapped on their own land in highly contaminated areas.

What right have government got to ruin your asset and make your life savings worth nothing.

These people are exposed to PFAS every day accumulating in their body. Communities are told not to eat the meat, eggs or any food produced on their lands but, on Government's own Agricultural departments advice, farmers can 'legally' sell the contaminated food. These departments are informing

people to go out and, not only break a federal law but, break a state law as well.

​

So how is government facilitating not compling with their own laws under the Food Safety Act

? Has the federal government enacted a new piece of law that overrides the Food Safety Act? And why does the consumer not have the right to know they are eating PFAS contaminated food? In state and federal based laws, the person should have the right to make informed choices for the food they buy to be free from misleading and deceptive conduct.

---
---
Australian free trade agreements
How can our State and Federal Agriculture departments be so deceptive with the Australian public? And what of our international free trade agreements - is Australia declaring PFAS contamination of red meat for export?
Government have been ignoring consistent advice over the years from Australian beef industry advocates and cattle breeders' association, and again last year, to remove food producing people out of PFAS contaminated areas. Separate the food from the risk. This is a national issue with impacted farmers being screwed over by utter mismanagement of how to resolve PFAS contamination to food producing areas. Now that Europe and US have stricter controls on PFAS for food safety, how will Australia react?

​

Australia now realises it needs to have inter-jurisdictional consistency on PFAS with the new

Industrial Chemicals Environmental Management Standard - IChEMS
​roadmap

. BUT, and this is where Australia will have a problem as it also realises the need to have inter-global consistency otherwise Australia will be left behind at the negotiating table for chemical management and securing export agreements on food and agribusiness.

​

Decisions made by the IChEMS Advisory Committee will

reveal if there is a genuine intent to strengthen chemical management laws to protect our land, air and water. Also relevant is how this committee interacts with health messaging advice and management to match our international contemporaries so Australia stops being so contradictory and irresponsible.

Watch this space.

---
---
What's being done about PFAS contamination
In Australia, the public didn't even know about PFAS contamination until 2015 but the federal government knew late last century and each States EPA department heads were briefed in early 2000's. in 2022 not much has changed. Federal and state government departments and agencies continue to deliberately inform and publicise incorrect and inconsistent information. There are still no maximum PFAS levels in food so heavily contaminated areas can legally sell contaminated produce to market. Exposed workers are poorly protected under each State's WorkSafe Acts with federal government giving legitimacy for their inaction pulling the bluff with each election cycle hoping the contrivance to undermine the seriousness of PFAS contamination continues.

​Australian industry is made to cleanup their contamination mess but e

lsewhere in the world the realisation of the impacts to people's health and the economy is now a priority. PFAS has been allowed to roam freely in our society for decades with the health and environmental costs growing substantially. Here in Australia, the community feel abandoned.


Ultimately, there will be an even greater societal cost if the Australian government continue business as usual.

---
---
Victorian Governments position on pFAS
The current position by the Victorian Government is that PFAS is everywhere & just too hard to manage therefore the
do-nothing
mantra is applied. Meanwhile the larger, general population are continually exposed to PFAS micro-dosing with little understanding of the implications for what they are buying, consuming and potential health effects to themselves and family. There are not even any whispers coming from government that they are even advocating for full product disclosures of PFAS chemicals to break the chain of exposures.
Why is this a problem?
The general population are facing ongoing micro dosing of PFAS because government regulation/standards/disclosures are dangerously outdated or non-existent therefore industry is compliant, condoned by State and Federal Government to legally PFAS us all.
Education – Victorian health advice based on Australian EnHealth is confusing, inconsistent and problematic.
Health advice to the public about food and water consumption based on the precautionary principle is conflicting when there is no restriction on the sale of contaminated stock intended for human consumption.
Victoria and Australia have not determined PFAS contamination as a priority.
Source populations that result in the greatest lifetime cumulative exposures should be prioritised.
This is not precautionary advice in the absence of evidence rather it is dangerous and discriminatory management of risk applying discretionary regulation were all levels of government see fit.
---
SCIENCE VS REGULATION
​

The issue for scientists is black & white - does PFAS cause health impacts and is PFAS associated with health impacts?

​​Science is based on different types of evidence that Australia chooses not to collect.

PFAS research is a complex field of study constantly evolving ​

Regulation is about using legislative powers to manage the risks to the people via a duty of care but if Government do not collect the data they can't manage the problem through statutory obligations - that's avoidance and our system of governance.

Monitor, manage, and remove the risk to the person under statutory obligations ​
Famous American environmental attorney,
Robert Bilott, who bought the first PFAS civil action against PFAS contamination recently stated in a Guardian news article -
'What I came to understand after dealing with this for so many decades is that we have a real systemic problem with the way our regulatory system is set up, the way in which science is generated, the way in which papers are published, peer reviewed, how that all interacts with our legal system, who has the burden of proof, who is being told they have to prove whether a chemical is safe versus whether it is harmful. All that creates a perfect storm of inaction.'
Keep an eye on
Rob Bilott's Facebook page.
---
Break the chain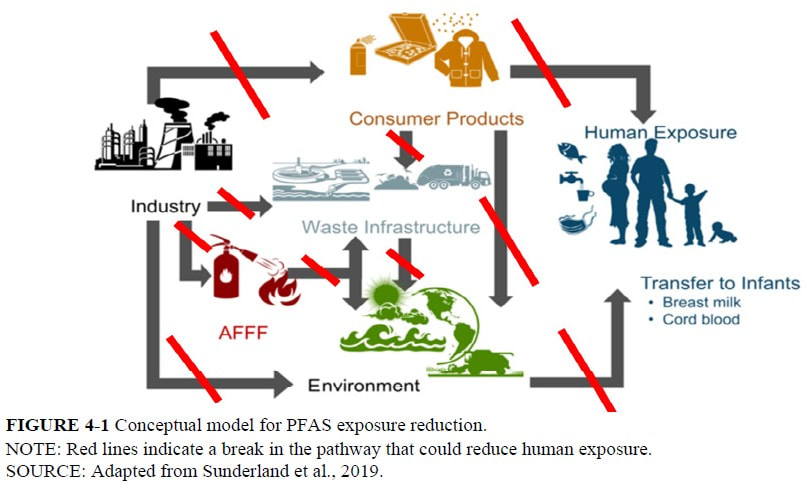 Having a political will to improve and update standards, regulation, enforcement and targeted strategies would go some way to reduce PFAS contamination impacting the general population but the main focus is to address the health issues in highly contaminated areas to protect and remove people from ongoing toxic exposures. All levels of government are providing pseudo

precautionary advice in the absence of evidence.

​This is nothing more dangerous and discriminatory than management of risk applying discretionary policy and regulation were all levels of government see fit.
​THAT'S ABUSE OF POWER!

---